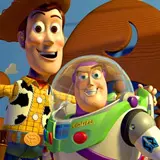 A rather friendly little Pixar-animated bird stopped by my office to let me know that Disney is prepping Blu-ray 3D releases of Toy Story, Toy Story 2 and Toy Story 3 for later this year.
As you might have already guessed, each Toy Story film on Blu-ray 3D would come packaged with the 2D version, DVD and a digital copy. I don't know yet whether Disney has plans to package all three into some sort of "Ultimate 3D Toy Box" set, but will surely let you know if/when I do.
The presumed ideal time to release the Toy Story films on Blu-ray 3D would be alongside Pixar's Cars 2 which is now playing theatrically. We expect that sequel to drive in stores on Blu-ray in 2D and 3D versions in either October or early November.
Still missing from the Pixar Blu-ray library is Finding Nemo which, ironically, was originally planned to be one of Disney's very first Blu-ray releases many years ago. I now have a glimmer of hope that Finding Nemowill be swimming onto a Blu-ray and DVD combo pack within the next 3-12 months, and will certainly pass along any updates on the lost clown fish… err… Blu-ray release when I have them.