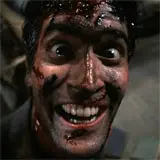 On November 15th, 2011, Lionsgate will be releasing a newly restored and repackaged version of Director Sam Raimi's cult classic, Evil Dead 2.
The title first popped up on Amazon.com a little over a week ago. Yesterday, Lionsgate made it official by issuing a press release for this new 25th anniversary edition and first from the publisher since they acquired the home video rights from Anchor Bay.
Evil Dead 2 tells the gory/slapsticky story of Ashley "Ash" Williams (Bruce Campbell) as he faces an ancient evil that has accidentally been awakened by a passage within the Necronomicon aka The Book of the Dead. A sequel/remake/reboot of the original Evil Dead is currently in development.
Anchor Bay's Evil Dead 2 Blu-ray had some neat extras, but this could be the definitive one fans are have long been hoping for. To go along with the promised new 1080p transfer, Lionsgate has also provided a list of special features for this 25th anniversary release:
All-new audio commentary with cast/crew
All-new Swallowed Souls: The Making of Evil Dead II documentary
All-new Road to Wadesboro: The Location of Evil Dead II featurette
All-new Cabin Fever: Behind the Scenes of Evil Dead II" featurette
All-new Evil Dead II interactive archive, featuring production stills, marketing materials, production stills, and early effects tests
Vintage featurettes and behind-the-scenes footage
TV spots and trailers
With a wealth of new to this release features and the promise of a new transfer (not to mention the return of the original cover!), the Evil Dead 2 25th Anniversary Edition should be swallowing your high def souls in style.
– Matt Hardeman
Click here to pre-order Evil Dead 2 25th Anniversary Edition on Blu-ray for only $10.49 at Amazon.com.