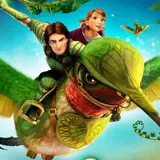 Fox and Blue Sky Animation's Epic will declare garden warfare on Blu-ray 3D, Blu-ray and DVD when it makes its home video debut on August 20.
From director Chris Wedge (Ice Age films), Epic touts a robust voice cast including Colin Farrell, Amanda Seyfried, Christoph Waltz, Jason Sudeikis, Steven Tyler, Pitbull, and Beyonce. The film, centered around diminutive "Leafmen" whose world hides in plain sight within the woods of ours, opened in cinemas this past may with $33 million its first weekend. It has gone on to earn $105.7 million domestically to date.
The Blu-ray 3D version of Epic is being called a "Deluxe Blu-ray" that includes, in addition to an extra disc with the film on 3D and the film on Blu-ray 2D, three Epic Seed cards to "grow your own Epic Garden!" Other than these features, the Blu-ray 3D and Blu-ray packages of Epic are identical. Here is what they include:
Mub & Grub Intro – Join Mub and Grub for an EPIC tour through the special features of this Blu-ray!
Birds, Bugs and Slugs: Forest Explorer – Journey into the forest to meet the real-life counterparts of the EPIC world!
Rot Rocks – Mandrake might be the bad guy, but his world of rot benefits ours in a number of ways, let's discover how!
Bugs of Camouflage – Join us to find out how bugs use their environment to hide right under our noses, just like the Leafmen!
The Epic Life At Two Inches Tall – How would your life be different if you were only two inches tall? Aside from being small, there are some surprising and amazing benefits!
Mysteries of Moonhaven Revealed – Meet the incredibly talented filmmakers, artists, and animators at Blue Sky, and learn all about the making of EPIC!

The World
The Leafmen
Queen Tara
Mub & Grub
Nim Galuu
The Stompers
Finding Moonhaven

Epic Coloring & Storybook Builder App – Color your own EPIC story with exclusive pages on your iOS or Android devices. Then become the story teller by recording your own voice and share on your television with family and friends
UltraViolet Copy
Theatrical Trailer
Pre-order Epic on Blu-ray and DVD for $21.99 at Amazon.com, 45% off the $39.99 list price.
Pre-order Epic on Blu-ray 3D, Blu-ray and DVD for $24.99 at Amazon.com, 50% off the $49.99 list price.