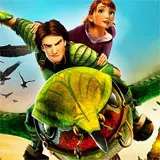 The new animated film Epic only took flight in theaters yesterday and already Amazon.com is accepting pre-orders for the Blu-ray 3D combo, Blu-ray combo and DVD versions of the film.
In addition to taking pre-orders, Amazon is sharing the Epic Blu-ray cover art which Fox Home Entertainment has chosen to share. In the past, Fox has been known to use temporary cover art for early promotion of home video releases. This Epic key art looks like it might be the final version.
Epic is from Blue Sky Studios, the same group behind the Ice Age films and Rio. It stars the voices of Colin Farrel, Jason Sudeikis, Josh Hutcherson, Amanda Seyfried, Aziz Ansari, Chris O'Dowd, Steven Tyler, Beyonce Knowles, and Pitbull. Speaking of Rio, the sequel Rio 2 dances its way to theaters next summer.
The trend of Hollywood and Amazon.com accepting Blu-ray and DVD pre-orders the same weekend a film releases theatrically is a growing one. This weekend's Fast & Furious 6 is also available, as is Star Trek Into Darkness and Iron Man 3.
Click here to pre-order the Epic Blu-ray 3D combo for $24.99 at Amazon.com, 50% off the $49.99 list price.
Click here to pre-order the Epic Blu-ray 3D combo for $21.99 at Amazon.com, 45% off the $39.99 list price.