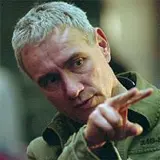 There's a fine line between promoting mystery and intrigue versus phoning creativity in. The new teaser poster for Roland Emmerich's 2012 stepped over the wrong side of the line.
A black background with barely visible metallic streaks. Steel silver exaggerated lettering. And the icing on the cake, a lens flare effect whose fad died about a decade ago.
Roland's disaster flick is on course to blow up stuff real good on November 13. Sometime between now and then a more appropriate and aesthetically pleasing poster should make the rounds.