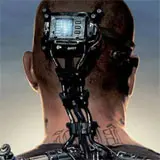 Neill Blomkamp's Elysium made its big public debut today via the film's first trailer and, if first impressions carry any weight, is destined to continue the success of its writer/director and star Matt Damon.
Like Blomkamp's District 9 before it, Elysium is presented as a blend of social commentary and science fiction with groundbreaking visual effects and an incredible burden placed upon the shoulders of one man. The trailer says a lot without giving away too much, no easy feat for selling a film without selling out the filmmaker's best kept secrets before they are meant to be known.
The term "Elysium" refers to a man-made space station that hovers just above a decimated and impoverished Earth. The station was built by humanity's richest citizens who live in the lap of luxury, free from famine and disease, even cancer. Yet down below, humans struggle to survive in wretched conditions.
Damon plays Max, a man forced to infiltrate Elysium to find a cure for the radiation poisoning he has been inflicted with. The process to put on the suit that will gain him access is painful, but the power it wields Damon's character is in line with some superheroes. Elysium's boss, played by Jodie Foster, will have her hands full trying to stop Damon's mission to unite and save humanity.
There's plenty of fun technology on display in Elysium including a variety of flying crafts, robotic foes for Damon to take on, and Elysium itself; a massive ring that penetrates the Earth's atmosphere and recalls visions of the massive rings in Microsoft's Halo Xbox 360 video game. This is ironic considering Blomkamp was originally tapped to direct the Halo film before the project was scrapped. Elysium is as intricately designed as District 9 but looks much more expansive and grand, the logical next step for Blomkamp in his young yet already successful filmmaking career.
We have to wait until August 9 to see Elysium with Damon, Foster, and Sharlto Copley (District 9) in full. In the meantime, Oblivion with Tom Cruise and Morgan Freeman looks to deliver some Sci-Fi goodness in just over a week on April 19.