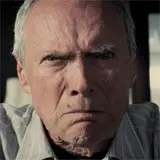 Clint Eastwood's self-confessed last acting performance in Gran Torino has been scheduled for a June 9 release on Blu-ray disc and DVD per Warner Home Video.
On Blu-ray, Gran Torino will be offered up on a BD-50 disc with 2.35:1 1080p video and 5.1 Dolby TrueHD audio, all housed within a Blu-ray case with an O-Sleeve.
Warner is providing all of the bonus features on Blu-ray in 1080i high definition with roughly half exclusive to Blu-ray and one available via BD-Live only.
James Cullum's Gran Torino music video (BD-Live exclusive)
The Eastwood Way: His Filmmaking Process Up Close (BD exclusive)
Manning the Wheel: American Car Culture and Manhood
Gran Torino: More Than a Car
Digital copy
Warner has priced Gran Torino on Blu-ray with an SRP of $35.99. Amazon.com pricing and pre-order information will be available this week. In the meantime, click through the disc details below to view high-res front and back cover art, or stop by the HDR Forums and discuss Gran Torino in this dedicated thread.