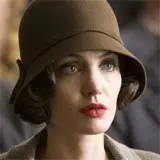 Several weeks ago Amazon.com began taking pre-orders for Clint Eastwood's Changeling on Blu-ray Disc with a printed release date of February 17.
We can now confirm that Changeling is indeed set for February 17 and can also share the full disc specs and details you can expect.
Changeling on Blu-ray will be presented in widescreen 2.4:1 1080p video and 5.1 DTS-HD Master Audio per Universal's standard Blu-ray guidelines.
The allotment of bonus features are heavily skewed towards Blu-ray exclusives with the day-and-date DVD only receiving a pair of featurettes. The Blu-ray edition will include those and everything listed below.
U-Control – Archives
U-Control – Los Angeles: Then and Now
U-Control – Picture in Picture
My Scenes
Partners in Crime: Clint Eastwood and Angelina Jolie
The Common Thread: Angelina Jolie Becomes Christine Collins
BD Live – My Scenes Sharing
Changeling remains up for pre-order at Amazon.com for $27.95. Click here to secure your copy.
Check back regularly for Changeling high-res Blu-ray cover art.