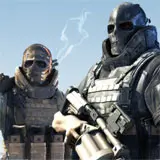 Electronic Arts is taking their promise to delve into cinema seriously with an official announcement declaring a partnership with Universal Studios to bring Army of Two to the big screen.
Screenwriter Scott Z. Burns, who wrote The Informant and co-wrote The Bourne Ultimatum, will pen the script while Scott Stuber, through Stuber Productions, will produce.
The current plan is for the film to fast track into production sometime next year for a likely 2010 release.
EA's other cinematic ventures include a prequel to Dead Space released direct-to-video on Blu-ray and DVD, as well as a movie based on The Sims which is currently in production at Twentieth Century Fox.
Now the big question becomes who will fill the shoes of the two main characters? Something tells me one of those roles has Vin Diesel written all over it.