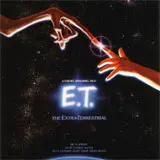 Universal has still not issued a definitive release date for Steven Spielberg's E.T. The Extra-Terrestrial to phone home on Blu-ray. They have, however, confirmed an October window for release and passed along all the technical and bonus features that will be packed onto the disc.
For his 30th anniversary and high-def debut, E.T. The Extra-Terrestrial will arrive on Blu-ray in a DVD, digital copy and UltraViolet combo pack. Tech specs include 1.85:1 1080p video and 7.1 DTS-HD Master Audio (assumed; the press release states "7.1 Dolby Digital" which is likely incorrect). Most importantly, E.T. The Extra-Terrestrial on Blu-ray is the original theatrical cut without the CGI inserted FBI cell phones replacing rifles on the DVD release.
Obviously E.T. The Extra-Terrestrial coming to Blu-ray is a huge deal for Universal and movie enthusiasts alike. As such, Universal is packing the Blu-ray release with an awesome selection of bonus features as outlined below:
NEW: The E.T. Journals: In this all-new bonus feature, retrace the day-to-day experience of creating E.T from never-before-seen, behind-the-scenes footage shot by Academy Award-winning cinematographer John Toll. This piece will give viewers a unique feeling of being on the set and living the excitement of what it was like to make E.T.
NEW: Steven Spielberg & E.T.: Watch an all-new interview with Steven Spielberg, as he reflects back on the film and discusses his experience working with the actors, as well as his overall and current perspective on E.T.
Deleted Scenes: Two scenes from 2002 version of the film.
A Look Back: A special insider's look into the making of E.T. featuring interviews with Steven Spielberg, the cast, and others intimately involved with the film.
The E.T. Reunion: The cast and filmmaker reunite to discuss their thoughts on the impact of the film.
The Evolution and Creation of E.T.: From idea to screenplay, through casting and making the film.
The Music of E.T.: A Discussion with John Williams: Interviews and footage focused on the long-standing relationship between John Williams and Steven Spielberg.
The 20th Anniversary Premiere: Composer John Williams played the score of E.T. live at the Shrine Auditorium for the re-release premiere of E.T. This featurette gives us a behind the scenes look at this presentation.
Original Theatrical Trailer
Special Olympics TV spot
Designs, Photographs and Marketing

E.T. Designs by Production Illustrator Ed Verreaux
E.T. Designs by Carlo Rambaldi
Spaceship Designs by Ralph McQuarrie
Designs by Production Illustrator Ed Verreaux
Production Photographs
Marketing E.T.
Online retailer Amazon.com has already begun taking pre-orders for E.T. The Extra-Terrestrial on Blu-ray and somehow, some way it has not yet cracked the Blu-ray top 10 bestsellers list. I don't expect that to last for long.
Click here to pre-order E.T. The Extra-Terrestrial on Blu-ray for $24.49 at Amazon.com, 30% off the $34.98 list price.