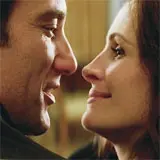 Spies and love cross paths in Duplicity, the 2009 romantic thriller starring Julia Roberts and Clive Owen that earned just over $40 million at the domestic box office.
Universal will be bringing Duplicity to Blu-ray Disc and DVD on August 25, the same day the studio will release Fighting.
On Blu-ray, Duplicity will be presented in 2.4:1 1080p video and 5.1 DTS-HD Master Audio. Bonus features consist of a commentary with writer/director Tony Gilroy and editor/co-producer John Gilroy, My Scenes sharing and BD-Live access.
Oscar winner Julia Roberts and Clive Owen star as two sexy spies-turned-corporate operatives in the midst of a clandestine love affair. When they find themselves on either side of an all-out corporate war, they'll put everything on the line to remain one double-cross ahead in a high-stakes game of cat-and-mouse.
Retail pricing for Duplicity on Blu-ray is set at $39.98. Amazon.com pricing, pre-order information and high-res cover art should be available shortly.