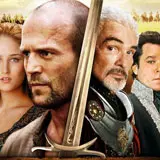 Multiple retailers have added a Blu-ray Disc listing for Twentieth Century Home Entertainment's In The Name Of The King: A Dungeon Siege Tale – Director's Cut, slated to arrive in stores on December 16.
The Uwe Boll-directed fantasy flick with added footage runs a whopping 162 minutes and stars Jason Statham, Burt Reynolds, Ron Perlman and Matthew Lillard, amongst others, in a story based on the popular fantasy role-playing game.
Technical specs aren't available at this time though it is relatively safe to assume the customary 1080p transfer and 5.1 DTS-HD Master Audio from Fox.
In The Name Of The King carries an SRP of $34.98, the first time a Fox title has been listed under $39.98. Whether this means Fox is changing their widely considered high pricing ways remains to be seen, as Horton Hears a Who carries the $39.98 tag and releases a week earlier on December 9.
We'll pass along more information as it becomes available.
Click here to pre-order In The Name Of The King: A Dungeon Seize Tale on Blu-ray for $23.95 from Amazon.com.