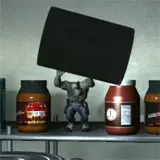 Does size really matter? In Duke Nukem Forever you'll encounter shrinkage, but the condition nothing to be ashamed of. In fact, shrinkage can be used to your advantage. If you doubt this I'm here to prove you wrong.
2K Games and Gearbox Software have released a new trailer that explores the ups and down of shrinkage in Duke Nukem Forever. Shrinkage lets you go places that standing tall and erect won't. It also lets you run into bad guys' shins, and there's infinite fun in that.
When not shrunken, endless fun can come from shrinking those less desirable inhabitants and stomping them out of this world. It saves ammo, anyway.
Watch the new Duke Nukem Forever 'Shrinkage' trailer below, then pre-order Duke Nukem Forever in standard or Balls of Steel editions for Xbox 360, PS3 or the PC at Amazon.com and earn a $10 video game credit when doing so.