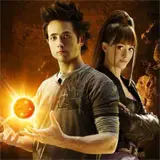 Anime gone live-action is coming to Blu-ray with Fox's July 28 release of Dragonball Evolution in a "Z Edition" package.
Dragonball Evolution stars Justin Chatwin, Chow Yun-Fat and James Marsters in the story about a humanoid alien who must recover 7 mystical Dragonballs with the help of a "Great Master" before an evil lord gets to them first.
On Blu-ray, Dragonball Evolution will be presented in 1080p video and 5.1 DTS-HD Master Audio. Bonus features are highlighted by one Blu-ray exclusive.
Goku's Quest scavenger hunt game (BD exclusive)
Eight Deleted Scenes
Goku's Workout: Stunt Work featurette
Fox Movie Channel Presents: Making a Scene
Fox Movie channel Presents Life After Film School with Justin Chatwin
Dragonball Gag Reel
Brian Anthony "Worked Up" Music Video
Dragonball Evolution: Z Edition on Blu-ray retails for $39.98. Click here to secure a pre-order copy at Amazon.com.