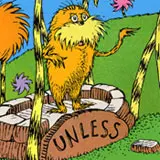 The creative team behind Dr. Seuss' Horton Hears a Who has inked a deal with Universal to create a 3D CGI-animated film based on Dr. Seuss' popular The Lorax character.
According to Variety, Dr. Seuss' The Lorax will be released on March 2, 2012. That date happens to be the birthday of Theodor Geisel aka Dr. Seuss.
Paul & Ken Daurio will co-direct the film and write the script, with Chris Renaud jumping in to help direct as well. The Daurio's wrote Horton Hears a Who for Fox Animation and Despicable Me for Universal, but Lorax will be their directing debut.