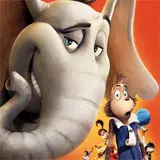 Twentieth Century Fox Home Entertainment has announced the $294 million box office powerhouse Dr. Seuss' Horton Hears A Who! is coming to Blu-ray Disc on December 9, day-and-date with DVD.
Dr. Seuss' Horton Hears A Who! will be presented in widescreen 1.85:1 1080p video encoded in AVC MPEG-4 and 5.1 DTS-HD Master Audio.
The Blu-ray edition will include a standard definition digital copy of the film on a second disc along with an exclusive BonusView picture-in-picture track. The full list of extras is as follows.
Directors' Audio Commentary w/ Jimmy Hayward and Steve Martino
Ice Age short Surviving Sid: All-new animated short focusing on the Ice Age characters Sid and Scrat.
Deleted Footage and Animation Screen Tests (w/ Introductions and optional audio commentaries by the directors)
That's One Big Elephant: Animating Horton: In an animation-focused featurette, learn how Blue Sky brought Horton to life.
Bringing the Characters to Life: Watch the animators' hilarious initial performances recorded as a reference to assist in animating the film.
Meet Katie: Discover how the character Katie was developed by Blue Sky
Elephant Fun: The Facts
Our Speck: Where Do We Fit In?: Using interviews with everyday kids, we'll learn how even small actions can help make the world a better place.
A Person Is a Person: A Universal Message: Featuring interviews w/ cast and crew, we will take a closer look at the characters, the story and interpret the meanings of Horton Hears a Who!
Bringing Seuss to Screen: Learn how Hayward and Martino maintained the authentic look and feel of Dr. Seuss' world.
The Elephant in the Room: Jim Carrey: Profile on Jim Carrey voicing Horton
We Are Here! Game: Memory game in which you have to repeat the correct pattern of Who-noises.
Bonus View technology Watch Horton Hears a Who! with a Who!: Watch the movie with the smallest Wh' of all – Jo Jo! (Blu-ray exclusive)
Dr. Seuss' Horton Hears A Who! on Blu-ray will carry an SRP of $39.98. Check back regularly for high resolution cover art and pre-order information.
Discuss Horton Hears a Who coming to Blu-ray in the HDR Forums.