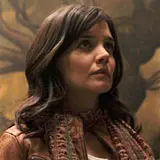 Don't Be Afraid of the Dark from writers Guillermo del Toro and Matthew Robbins, and director Troy Nixey, has been given a January 3, 2012 release date on Blu-ray and DVD by Sony Pictures Home Entertainment.
The horror thriller starring Katie Holmes and Guy Pearce opened on August 26 in theaters and became a victim of the slow spell that gripped Hollywood during the tail end of summer. Its opening weekend was a dismal $8.5 million, and the final domestic tally wasn't much better at $23.9 million.
On the bright side, Don't Be Afraid of the Dark only cost $25 million to make.
The Blu-ray edition of Don't Be Afraid of the Dark will be presented in 1.85:1 1080p video and 5.1 DTS-HD Master Audio. Bonus features are relatively scarce with only a trio of featurettes present: The Story; Blackwood's Mansion; and The Creatures.
Click here to pre-order Don't Be Afraid of the Dark on Blu-ray for $24.99 at Amazon.com, 31 percent off the $35.99 list price.