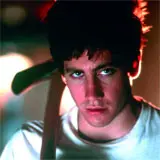 Online retailer DVDEmpire.com has added a new pre-order listing for the Blu-ray version of Donnie Darko: Collector's Edition with a street date of February 10.
The collector's edition on Blu-ray will likely follow the same template as the previously released DVD version and include the theatrical and director's cut versions via seamless branching.
Tech specs will include a widescreen 2.35:1 1080p video transfer and 5.1 DTS-HD Master Audio.
Extra features likely won't be available until Fox makes an official announcement. If Fox sticks with their past treatments of special edition catalog films moved from DVD to Blu-ray, the extras on Donnie Darko on Blu-ray will mirror those found on DVD.
Donnie Darko: Collector's Edition on Blu-ray will carry a retail price of $34.99. High-res cover art is below and updates are sure to come in the near future.
The official Donnie Darko on Blu-ray discussion thread is now open in the HDR Forums.