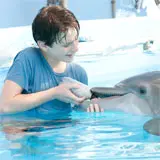 The box office family hit Dolphin Tale starring Ashley Judd, Harry Connick Jr., Morgan Freeman and Kris Kristofferson is swimming to Blu-ray 3D, Blu-ray and DVD on December 20, just in time for the holidays.
Dolphin Tale proved to be a surprise hit when it opened to $19.2 million back in late September. It has earned just over $65 million to date and should put up strong numbers on home video for late Christmas gift shoppers.
The Blu-ray 3D edition of Dolphin Tale will come packaged with the Blu-ray and DVD version, as well as the new Ultraviolet digital copy stored out on the cloud. The Blu-ray edition will include all of the above save for the 3D version. Look for the film to be presented in 1080p video and 5.1 DTS-HD Master Audio.
Over 50 minutes of bonus feature will include:
The Hutash Rainbow Bridge
At Home with Winter
Dolphin Tale: Spotlight on a Scene
Winter's Inspiration
Ormie and the Cookie Jar
Deleted Scenes
Gag Reel
Check out the cover art for Dolphin Tale on Blu-ray and Blu-ray 3D below. The SRP is set at $35.99 and $44.95, respectively.