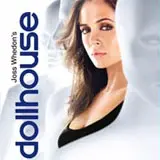 Fox and Joss Whedon have teamed up to create an exclusive version of Dollhouse: Season One on Blu-ray Disc and DVD that will be sold exclusively at San Diego Comic-Con later this month.
2500 copies of each version are available, each individually numbered and including a "personal letter to fans" from series creator Whedon.
Earlier today the sets went up for pre-order at FoxStore.com and the site crashed. Everything seems to be running smoothly now and quantities are still relatively abundant at the time of this article: 2262 DVD editions left and 2311 Blu-ray editions left.
Once pre-ordered, the set will have to be picked up in-person at Comic-Con. There is no shipping option available.
Pricing for Dollhouse: Season One Comic-Con edition is $69.99 and the DVD is $49.98. Click here to head over to Fox's pre-order page.