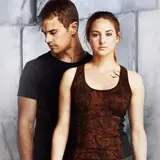 Summit Entertainment and Lionsgate's Divergent is flexing its muscles at the box office this weekend with an opening three-day total that will fall north of $50 million. All the big Divergent fans who already saw the film can now pre-order Divergent on Blu-ray or DVD at Amazon.com.
Divergent stars Shailene Woodley, Jai Courtney, Theo James and Miles Teller, and is directed by Neil Burger. The first of at least two films is based on the popular young adult books by Veronica Roth.
Thursday night midnight openings yielded $4.9 million in box office business for Divergent. Opening weekend totals are forecast to fall somewhere around $55 million, though a drop on Sunday could push the opening numbers closer to the low $50s.
Amazon currently has separate listings for Divergent on Blu-ray and DVD. Neither are currently labeled as coming with a Digital HD copy but that's a given. Also, the Blu-ray edition will likely also include the DVD.
Click here to pre-order Divergent on Blu-ray for $27.99 at Amazon, 30% off the 39.99 list price.
Click here to pre-order Divergent on DVD for $20.97 at Amazon, 30% off the 29.95 list price.
Divergent fans will be thrilled to know that Summit Entertainment has already given a green light to the sequel, Insurgent, based on the second novel in the series by Roth.