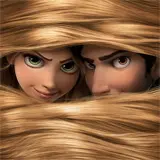 Disney's latest animated fairytale Tangled is unfurling its hair and coming to Blu-ray 3D, Blu-ray and DVD on March 29.
The Blu-ray 3D version of Tangled will be packaged as a four disc set that includes the 3D version of the film on disc one, the 2D version and bonus features on disc two, the DVD version and a duplicate bonus features on disc three, and a digital copy on disc four. Both the Blu-ray 3D and 2D discs will present the feature film in 1.78:1 1080p video and 7.1 DTS-HD Master Audio.
With the exception of Original Storybook Openings, the remaining bonus features will all be exclusive to Blu-ray. Right now I only have a partial list to share that includes 3 Deleted Scenes; Untangled: The Making of a Fairy Tale; two Extended Songs; and nine Theatrical Teasers.
There is currently a pre-order promotion for the Tangled Blu-ray 3D combo pack at Amazon.com that will kick back $10 if you pre-order Tangled and another eligible title. The offer ends April 4 with more information available on the Tangled page at Amazon.
Click here to pre-order the Tangled Blu-ray 3D Combo Pack for $29.99 at Amazon.com.