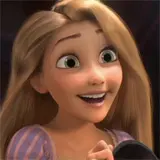 Disney's Tangled is still playing into the top 10 at the box office but that hasn't stopped the studio from teaming up with Amazon.com to offer pre-orders on home video well ahead of when it will likely be available in stores.
The four-disc version of Tangled is currently the number two bestseller on Amazon's hourly Blu-ray bestsellers list despite no official release date (odds are favorable for a late February or early March arrival). This version includes the film on Blu-ray 3D, Blu-ray, DVD and a digital copy.
The reason this version is selling so well is it is listed for $29.99, 40% off the list price of $49.99, plus Amazon is offering an additional $8 off for purchasing through them. The bottom line: you can pre-order Tangled on Blu-ray 3D for $22.
Pre-order Tangled on 4-disc Blu-ray 3D/Blu-ray/DVD for $29.99 (plus the $8 off promotion) at Amazon.com.