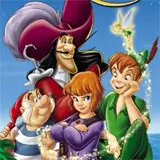 Disney has revealed plans to release the animated Peter Pan sequel Return To Neverland on Blu-ray for the first time ever on August 20. A Diamond Edition DVD of the original Peter Pan will be released the same day.
Peter Pan has been on a roll for Disney of late. The original classic made its Blu-ray and high definition debut earlier this year. Jake and the Neverland Pirates has been a big hit for Disney Junior, and Once Upon a Time introduced Pan and Captain Hook in Season 2. It seems like only a matter of time before Pan, Hook, Tinker Bell and the Lost Boys appear in the Disney Infinity video game.
Return To Neverland was originally released in 2002 and features the daughter of Wendy, Jane, getting caught up in Captain Hook's latest evil plan. The Blu-ray is a special edition that will include the DVD and a digital copy in the same package. It will be presented in 1.66:1 1080p video and 5.1 DTS-HD Master Audio.
Bonus features consist of a new Introduction by Diane Disney Miller and 'Tinker Bell: A Fairy's Tale.'
Click here to pre-order Return to Neverland on Blu-ray and DVD combo at Amazon.com.