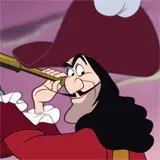 Disney's 1953 animated classic Peter Pan will be gracing store shelves as a Diamond Edition title when its February 5, 2013 Blu-ray release date and high definition debut arrives.
I first confirmed the existence of Peter Pan on Blu-ray when a trailer for it popped up in front of Disney and Pixar's Brave on Blu-ray. Since then I have spotted a pre-order link with the release date at Amazon.com, and as a special treat, have an early look at the cover art below.
Peter Pan: Diamond Edition on Blu-ray is a three-disc set that also includes a DVD and digital copy version of the film. The set will be loaded with bonus features that will be revealed when Disney sends along their official press release. Expect some never-before-seen footage at the very least. As with all Diamond Edition titles, Peter Pan will be available for a limited time only.
Click here to pre-order Peter Pan: Diamond Edition on Blu-ray for $31.49 at Amazon.com, 30 percent off the $44.99 list price.