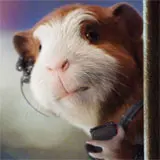 Disney's G-Force rolled its way to the top of this weekend's box office results with approximately $32.2 million per early studio estimates.
The guinea pig spies successfully dethroned Harry Potter and the Half-Blood Prince which added another $30 million to its coffers. Potter now enjoys a cumulative box office gross over $221 million.
The Ugly Truth with Katherine Heigl and 300's Gerard Butler performed strong despite a R-rating and sexually charged gags to pull in $27 million, good enough for the third spot. The better than expected opening casts further doubt on how much longer Heigl will hold onto Grey's Anatomy.
Warner Bros. Pictures' creepy horror thriller The Orphan was the odd girl out this past weekend with 12.8 million in box office receipts. The odd man out was Bruno who dropped to the tenth spot with $2.7 million and should be off the charts by next weekend.
The complete box office results for July 24-26 are as follows (click linked titles to read our review):
Next weekend the Judd Apatow dramedy Funny People goes up against Fox' family adventure Aliens in the Attic, each showing on approximately 3,000 screens. Freestyle's The Collector opens on 1,500 screens and could face the same competitive struggles The Orphan did.