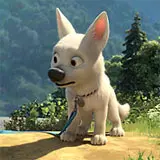 Disney's latest CGI-animated film Bolt is poised to make a splash on Blu-ray Disc when it arrives in stores on March 24, day-and-date with two DVD versions.
Bolt is one of several Disney Blu-ray Disc titles this year that will include the high definition version, a standard DVD version and a digital copy of the film in the same three-disc set.
Bolt on Blu-ray will also include one exclusive feature, "Bolt's Be-Awesome Mission Game," as well as BD-Live access.
The remaining bonus features are as follows and tech specs will be added once available.
Bolt's Be-Awesome Mission Game (Blu-ray exclusive)
Disney BD-Live (Blu-ray exclusive)
All-New Exclusive Super Rhino Short
Deleted Scenes
A New Breed Of Director: A Filmmaker's Journey
Act, Speak! The Voices Of BOLT
Creating The World Of BOLT
Miley Cyrus And John Travolta Sing The Song "I Thought I Lost You" In Studio
DisneyFile Digital Copy
Disney has set a $39.99 retail price for Bolt on Blu-ray. Check back regularly for a sub-$30 Amazon.com pre-order price, and click through the disc details below to view high resolution cover art.