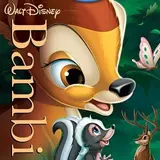 Pre-orders for Disney's 2011 Diamond Edition Blu-ray release of the original Bambi are on fire at Amazon.com following the title's announcement a little over a week ago.
As of Sunday morning, pre-order sales for Bambi had leapfrogged over Toy Story 3, Inception, Scott Pilgrim vs. The World, HBO's The Pacific and The Sound of Music to secure the number two spot on Amazon's hourly bestsellers chart. The only title ahead of Bambi is Fox and James Cameron's Avatar: Extended Collector's Edition (a set we already have in hand and is outstanding).
Currently Disney is selling Bambi on Blu-ray, which also includes the DVD version and a digital copy, for $24.99 or 38% off the $39.99 list price.
Click here to pre-order Bambi: Diamond Edition on Blu-ray for $24.99 at Amazon.com.