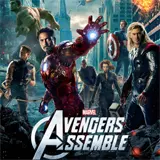 The Avengers record-breaking box office domination has quickly prompted Disney to get Hulk, Captain America, Iron Man and Thor juiced up for a sequel.
Disney CEO and Chairman Robert A. Iger today announced that the company's Marvel Entertainment Group has begun development on The Avengers 2. Exactly when development began remains in question. Given Marvel's forward thinking plans of up to five years in advance and the revealing mid-credits scene, early work could have been underway long before The Avengers opened theatrically here in the U.S. on May 4.
Iger's statement praises Marvel for its great "storytelling and characters," and promises much more from Marvel properties in the future, including integration into the company's theme parks. Disney's Imagineers (re: design wizards) are already hard at work on designed Marvel-themed attractions.
With over $700 million in worldwide box office business and no signs of slowing down, The Avengers has become a global entertainment phenomenon. Fans of Marvel and superhero films in general knew Disney was wise to purchase Marvel back in late August, 2009 for $4 billion, and The Avengers alone could earn back a quarter of that purchase price.
The Avengers initiative spans far beyond one superhero ensemble. Iron Man 3 with Robert Downey Jr. returning as slick talking Tony Stark is on the cusp of principal photography to meet a May 2013 release date. Later next year, Chris Hemsworth will return in Thor 2, followed in April 2014 by Chris Evans in Captain America 2.
The big question mark right now is which Marvel film will occupy the second slot in 2014. The Avengers sequel seems more fitting for a summer release and would make more sense slotted into 2015. There is the opportunity to introduce new characters such as Ant Man, a project that Edgar Wright has been working on for years at a snail's pace, or Doctor Strange, someone Marvel boss Kevin Feige has repeatedly stated he wants to put on the big screen.
Because of The Avengers success and the emergence of Mark Ruffalo as the best received Bruce Banner, that fall 2014 slot might end up going to another solo outing for Hulk. Ruffalo has already publicly stated he has a six-film deal with Marvel so there are five more projects he is expected to appear in.
The next news from Disney and Marvel regarding The Avengers sequel should be a release date, and I wouldn't expect that until this summer's San Diego Comic-Con at the very earliest.