Super-villains beware! Some of the most popular and iconic Marvel Super Heroes have joined the world of Disney Infinity. The Avengers' Iron Man, Black Widow, Thor, Captain America, Hulk and Hawkeye will fly, super-jump, kick, punch, and smash onto the scene this Fall with the release of Disney Infinity: Marvel Super Heroes.
I was at the Disney Infinity 2.0 reveal in Los Angeles and fortunate enough to experience the unveiling first-hand. The high-energy crowd enthusiastically greeted special guest Agent Coulson (actor Clark Gregg) who introduced Jimmy Pitaro, President of Disney Interactive. Mr. Pitaro spoke of the long term Disney vision: to create an experience where children play with virtual toys the way we used to on our bedroom floors. He shared an adorable picture of his own kids playing with a mixed bag of toys. It made me remember my own childhood days of playing My Little Pony vs. G.I. Joe. But I digress.
Mr. Pitaro highlighted impressive sales figures and stats for Disney Infinity (summary, they are well into the black) and thanked the passionate fan base. Then it was time to pass the baton to Joe Quesada, Chief Creative Officer of Marvel Entertainment. After shamelessly plugging Agents of S.H.I.E.L.D. (watch it Tuesdays at 8/7c on ABC), Mr. Quesada described the qualities that make Marvel Super Heroes so relatable. They have problems and flaws. They're not perfect. Super Heroes, they're just like us… only, you know, super. But he's right. Marvel Super Heroes have layers and depth, which makes them a very appealing addition to Disney Infinity.
The final presenters were John Blackburn, VP and General Manager of Avalanche Software and John Vignocchi, Executive Producer of Disney Interactive, who right off the bat, answered some burning fan questions. Will all figures be compatible with both systems? Will the base be compatible? What about the Power Discs? Yes, yes, and more yes. As the owner of multiple Disney Infinity 1.0 characters, I was pleased to hear that those figures will work in Marvel Super Heroes, and the Toy Boxes created in Disney Infinity will also work in Marvel Super Heroes.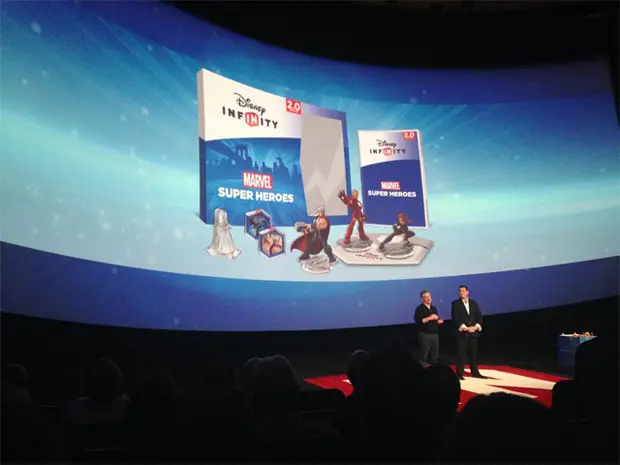 Mr. Blackburn and Mr. Vignocchi went on to reveal some exciting updates to locomotion, combat, and usability. First off, flying! Awesome. This includes flying characters, like Iron Man and Thor, as well as flying vehicles. Super-jump and wall crawl will also be means of travel in the new game. Combat updates take the form of new classes and an attributes/skill tree. As an avid RPG player, I enjoy skill building and customization. It will be a welcome change to have more differentiation between Disney Infinity characters.
The Toy Box was the focus of usability enhancements. Approximately, 60% of player time is spent in the Toy Box. I can attest that the sandbox freedom is what my boys and I enjoy the most. In addition to a new brush system which allows insanely quick construction of a world, there are new structured Toy Box Power Discs which combine the fun of level creation with the excitement of a mission. We were treated to a preview of Tower Defense and Dungeon Crawl, each included with the Starter Pack. Tower Defense provides 3-4 hours' worth of light-story play and an unlockable free-play skirmish mode. Dungeon Crawl is dynamically generated, so each time it's played the world is different. Both look incredibly fun.
One of the most anticipated Toy Box enhancements, at least for me, is the ability to go inside buildings. With the addition of special doors, players can enter a building and customize the rooms inside. I, for one, can't wait to create a character home, where I will be able to observe my progress and display trophies.
Vignocchi made it clear that more classic Disney characters are on the way so those of you out there fretting that the game is all "Marvel" and not "Disney" can breathe a sigh of relief. Meridia, Stitch and Maleficent are Easter Eggs in the Disney Infinity: Marvel Super Heroes reveal trailer, and additional figures are expected. See if you can spot them below.
The estimated release for the Disney Infinity: Marvel Super Heroes Starter Pack is in August per a leak last month, though Disney has yet to confirm the time frame. Expect more figures and a release date to be made public at E3 in early June.
Disney Infinity: Marvel Super Heroes will be available on Xbox 360, Xbox One, PS3, PS4, Wii U and iOS. It will not be available on 3DS, PS Vita or Wii.