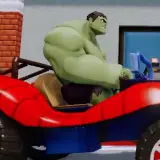 This morning Disney Interactive released a new Disney Infinity 2.0: Marvel Super Heroes trailer that mostly shows off The Avengers Play Set that will come package within the game's Starter Pack.
As was hinted at in the Disney Infinity 2.0 reveal trailer, The Avengers Play Set narrative has the Frost Giants of Jotunheim arriving on earth and attempting to put the big freeze on the Big Apple. Actually, this trailer has the camera pulling back to reveal that the Frost Giants and their master, Loki, are freezing not only the Big Apple, but the entire planet earth.
The Avengers Play Set trailer then introduces the heroes: Thor, Iron Man, Hawkeye, Black Widow, Hulk, and Captain America, before ending on a humorous note with Hulk demonstrating how he handles finding a parallel parking spot for his ride.
There's a shot of Loki standing upon a Manhattan skyscraper that calls into question of whether Loki will be playable in Disney Infinity 2.0: Marvel Super Heroes and whether he will have a toy figure or not. My best guess is the answer to both questions is yes, and we should learn more when Disney Interactive reveals more about the game — including new figures — at E3 in just a few weeks.
Disney Infinity 2.0: Marvel Super Heroes is coming to Xbox 360, PlayStation 3, Wii U, Xbox One, PS4, PC and iOS in September.