New Disney Infinity 2.0 Marvel Super Heroes figures and at least one Play Set are scheduled to be formally unveiled at E3 next week. The game will also finally be available to pre-order, and thanks to sneak peeks at the next Best Buy and Target circulars, we know some of what to expect and the game's probable release date.
The Target circular is promoting a free Disney Infinity 2.0 figure with a pre-order for the Starter Pack. It lists a September 27 release, the first time we've seen this date published, and includes an image for a figure of Venom, the first time he's been seen attached to the game.
The Best Buy circular for the week of June 15 is even more revealing. though it has no images, the ad mentions several figures available to pre-order including new announcements Nick Fury, Iron First, Venom (again) and the Ultimate Spider-Man Play Set. Disney Interactive had already promised a new Play Set would be revealed at E3 and it appears Ultimate Spider-Man is it.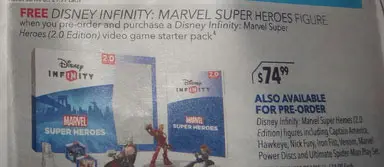 The revelation of Venom as a single-pack figure raises the following question: what two figures are in the Ultimate Spider-Man Play Set? Our best guess is Spider-Man and Green Goblin, both of whom appeared briefly as cameos in the Disney Infinity 2.0 announcement trailer.
Stop back early next week for all the new Disney Infinity 2.0 goodies that Disney Interactive unveils at E3 2014.
Source: Penny Arcade