The Disney Infinity 2.0 reveal is still a little less than two weeks away, but already someone at D23, Disney's official club, slipped up and posted something online they shouldn't have.
Yesterday the official Disney D23 club website updated with a teaser graphic for Disney Infinity 2.0 that lists an August 2014 release month for the sequel. Though that can't be taken as an official announcement, considering it showed up — and then was subsequently removed — from an official Disney website makes it about as official without truly being official as you can get.
The description for the game promises familiar Marvel characters, objects and vehicles in Disney Infinity 2.0. Those of you hoping for classic Disney characters shouldn't hang your head just yet as it is highly unlikely Marvel will hinge the entire success of Disney Infinity 2.0 on exclusively Marvel characters. I expect a nice selection of classic Disney animated characters to appear in plastic form as well.
This past year's inaugural edition of Disney Infinity also launched in August and given the game's success, plus headstart over rival Activision's Skylanders, proved successful for the Mouse House. The old saying is if it ain't broke, don't fix it, and that seems to be precisely what Disney Interactive is practicing for the return of Disney Infinity.
Disney Interactive and Marvel are taking the wraps off of Disney Infinity 2.0 during a media event in Hollywood on April 30, exactly one week after the new Toys For Bob Skylanders 4 game is revealed. We will have someone in attendance and will report back with all the details as well as pictures and video from Disney Infinity 2.0.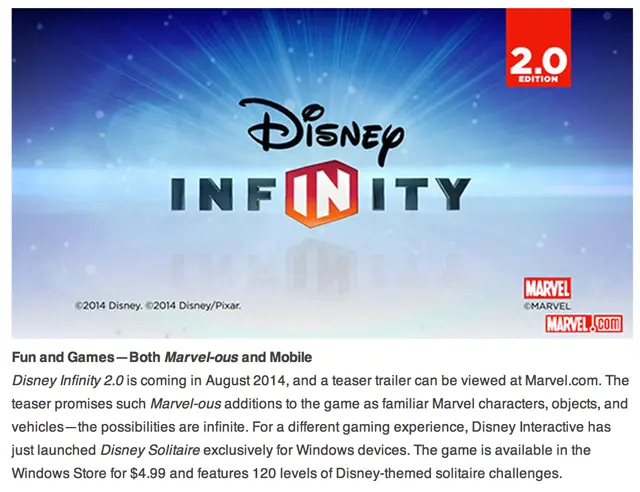 Source: Infinity Inquirer via D23.