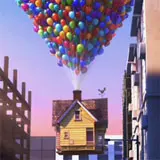 Disney and Buena Vista Home Entertainment have announced what is sure to be one of this holiday's bestselling home video releases, Pixar's Up, is coming to Blu-ray Disc and DVD on November 10.
On that same day, Pixar's Monster's, Inc. will also be released after being delayed from a simultaneous bow alongside A Bug's Life in late spring.
The roughly six month delay has seen Monsters, Inc. grow from a two-disc to three-disc set with the additional disc containing a DVD version. Up will be a four-disc set and both will carry a relatively steep SRP of $45.99.
In addition to a standalone four-disc set, Pixar's Up will also be available packaged in the Luxo Jr. Collectible Desk Lamp set (pictured below). Along with Up on Blu-ray, this set packs a replica of the Luxo Jr. lamp and a base with a drawer designed to hold the complete Pixar Blu-ray collection. The set will be available for a limited time and retail for $199.
Bonus features for Up and Monsters, Inc. on Blu-ray are outlined below.
Up
Cine-Explore (BD exclusive)
Global Guardian Badge Game (BD exclusive)
Geography Game (BD exclusive)
8 Documentaries (BD exclusive)
New: Doug's Special Mission animated short
Partly Cloudy animated short
Directory commentary
Adventure is Out There – documentary chronicling the filmmakers' journey to South America
The Many Endings of Muntz – Witness the demise of Charles Muntz with an unseen alternate take
DVD version
Digital copy
Monsters, Inc.
NEW: Monster's Inc Ride and Go Seek: Building Monstropolis in Tokyo
NEW: Filmmakers' Roundtable with director Pete Docter, co-director Lee Unkrich and producer Darla Anderson
NEW: Roz's 100-Door Challenge Game
BD-Live
Ported DVD bonus features
Digital copy
DVD version
Click here to pre-order Up on Blu-ray at Amazon.com.
Click here to pre-order Monsters, Inc. on Blu-ray at Amazon.com.