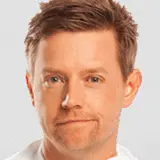 New digital entertainment provider M-Go has cooked up an original series by the name of Dinner & A Download that utilizes celebrity chefs and food to help promote their movies and television streaming platform.
Each 15-minute episode of Dinner & A Download is hosted by Jeffrey Saad and features a celebrity chef from a pool including Chef Richard Blais (Bravo's Top Chef All-Stars winner), Chef Ben Sargent (host of Cooking Channel's Hook, Line & Dinner), Chef George Duran (host of TLC's Ultimate Cake Off), Chef Paulette Goto (contributing host of Cooking Channel's Unique Sweets) and Chef Saad himself (host of Cooking Channel's United Tastes of America).
Each chef combines their unique signature cooking style into a dish that matches a selection of films from the M-Go library that share a similar theme. Examples of these themes include "Reinvention. Reimagination," "Life is Short. Eat Dessert First," "Twist" and "Man vs. Nature."
Each recipe presented during Dinner & a Download will be available to, naturally, download for free so viewers can follow along at home. You can watch and stream multiple free episodes of Dinner & A Download here on the official website, and learn more about the chefs and what they bring to the table.