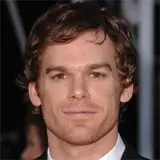 On Showtime's Dexter, Michael C. Hall removes cancerous individuals from society by lethal means. In real life, the actor has been battling internal cancer that was caught early enough to be treatable and sent into remission.
In a statement released by Hall, he feels fortunate to have been diagnosed with a "treatable and curable condition," Hodgkin's lymphoma, that was caught at an early stage and is being treated in Los Angeles. Hockey great Mario_Lemieux was diagnosed with the same condition in 1993 and today is an owner in the Pittsburgh Penguins franchise.
Hall will next be seen publicly this weekend alongside Dexter co-star and real world wife Jennifer Carpenter at this Sunday's Golden Globe awards where is in the running for best actor in a television series drama.