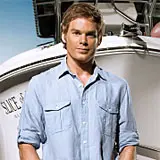 Back on February 13, I passed along news that Amazon.com had begun taking pre-orders for the third season of Showtime's Dexter on Blu-ray Disc.
To add to that news, I can confirm that Showtime and Paramount Home Entertainment have chosen August 18 for the release of Dexter: Season Three on Blu-ray.
The third season will be presented in 1.78:1 1080p video and 5.1 Dolby TrueHD audio.
In addition to the third season, Showtime will package the previous two seasons with the third season on Blu-ray and offer the bundle as a "three season pack."
Unfortunately pricing information is not available for the three-season set at this time. However, Dexter: Season Three on Blu-ray is still up for pre-order at Amazon for $36.99.
Click here to pre-order Dexter: Season Three on Blu-ray.