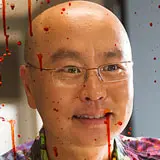 Dexter returns tonight on Showtime to formally kick off the show's eighth and final season with Michael C. Hall and Jennifer Carpenter leading the way. There will be proper and decisive resolution ahead for pop culture's most beloved serial killer, though whether that involves a body bag, a jail cell, or a margarita in South America with Hannah McKay will be Showtime's best kept secret during the coming few months.
To recap the Dexter: Season 7 finale, Lieutenant Maria LaGuerta had successfully proven Dexter was the Bay Harbor Butcher and caught him in the act of just having butchered a victim. It was Dexter's intention to kill LaGuerta then and there, but Deb showed up and pointed her gun right at her brother. After successfully pleading for his life, Deb ends up killing LaGuerta instead to save her brother from life in jail or worse – again. There are some mild spoilers ahead so proceed at your own risk.
The set-up for Season 8 is that while Dexter is able to shrug off a murder of someone he knows and has done so numerous times, LaGuerta was Deb's first cold-blooded kill. Deb hated LaGuerta with a passion, but she can't live with the fact that her nemesis had to die in order to cover up Dexter's numerous blunders. Deb is breaking down sixth months after LaGuerta's murder and Dexter, though he wants to help, is the absolute last person Deb wants to help her cope.
In the six months that have passed since LaGuerta's murder, Deb has left Miami Homicide and works for a private investigator film. Taking Deb's place is Batista who cancelled his retirement into the restaurant business real quick upon learning of his former lover and friend's fate. Batista should be, in theory, obsessed with tracking down LaGuerta's killer, and that can't be good news for Dexter or Deb.
Also providing trouble for Dexter is the arrival of Charlotte Rampling as Dr. Vogel, a woman whose expertise in examining brains to determine whether someone is a killer or not could compromise Dexter's secret life. She shows up in response to a body dumped on a Miami beach with a particularly important piece of his/her brain carefully removed.
I have assembled a collection of stills and clips from tonight's Dexter: Season 8 premiere 'A Beautiful Day' which you can peruse below. The premiere goes down tonight at 9/8c only on Showtime.
There's a good chance that Showtime will make an edited version of the Dexter: Season 8 premiere available for free online streaming after the show airs. If you want a Dexter free online stream, you have to be subscribed to Showtime and your cable or satellite provider must support Showtime Anywhere.