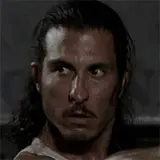 Showtime has grabbed a victim of Rick Grimes' cleaver from The Walking Dead for a potentially juicy role in the eighth season of Dexter.
Nick Gomez had a short yet memorable role during the third season of AMC's The Walking Dead playing Tomas, the alpha male in a group of inmates that Rick and his own group discover hiding in the bowels of the prison. Tomas doesn't last very long and goes out in a memorable death scene that ranks up there with the best in that series to date.
In Dexter, Gomez will play assassin Javier Guzman, also known as El Sapo. He has been tasked by someone to take one someone. Unfortunately for El Sapo, increasingly unstable Debra gets in the way and El Sapo's frustration is said to escalate as a result.
Production on Dexter: Season 8 is already underway with the season premiere set for late June.
Source: TV Line