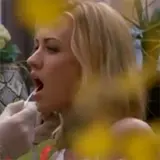 In the next episode of Dexter: Season 7 titled 'Buck the System,' former Chuck beauty and CIA secret agent Yvonne Strahovski joins the cast as someone Dexter might be able to relate to.
In the following clip you will get to meet Yvonne as Hannah McKay, the accomplice of convicted killer Wayne Randal that threw himself in front of a truck in the previous episode. Dexter is tasked to take a DNA sample from her mouth and, in the process, his coolness under pressure breaks for a moment. After he quickly gets his act back together, Dexter suggests they remain on a last-name basis only.
On one hand you could say McKay is sending out sexual vibes to Dexter, especially when she opens her mouth for the swab. On the other hand, Dexter may have caught a tinge of deja vu and sensed her dark passenger, one we already know she has given her connection to Randal. Or, Dexter sensed McKay sensing his dark passenger and it scared him. Either way, Deb may have some competition for Dexter's time and rehab in the upcoming episodes.
'Buck the System' premieres this upcoming Sunday at 9/8c on Showtime.