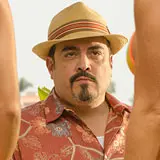 Dexter Morgan took on a Russian crime boss and came out on top, at least for now. Isaac Sirko (Ray Stevenson) is behind bars after Dexter tricked him into entering a rival gang's bar. Sirko's new confines don't mean Dexter is off the hook.
With the immediate Sirko threat out of the picture, Dexter will redirect his attention to Hannah McKay (Yvonne Strahovski) and his knowledge that she's a serial killer and not merely an accomplice. Dexter sees Hannah as a potential target to take out, but it may be a target he has trouble executing.
Hannah seems to have cast some spell on Dexter, something borderline between sexual attraction and mutual admiration. Dexter is clearly rattled a little in her presence and may end up finding someone to confide in that understands his dark passenger fully, unlike Deb who won't turn Dexter in but also won't accept who is really is.
Lingering in the shadows is LaGuerta and her quest to find the true Bay Harbor butcher. Deb is on the fast track to keeping LaGuerta off the scent, but I have a hard time imagining LaGuerta isn't going to catch a break before long and end up putting herself in harm's way. Imagine LaGuerta on the table with Dexter and Deb arguing over her fate. That would be an amazing scene.
Below is a new clip from Dexter: Season 7 episode 78 'Do the Wrong Thing.' It sees Dexter stalking Hannah for the first time while Harry provides sage advice. I have also included some stills from tonight's new episode that premieres on Showtime at 9/8c.