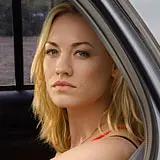 Dexter Morgan has two quite different games of cat-and-mouse going on in this week's new episode 'Swim Deep.' Both of them could have potentially deadly consequences for the parties willing to tango with Miami's most prolific serial killer.
In one corner stands Hannah McKay (Yvonne Strahovski), former lover and accomplice to a serial killer who recently took his own life. Dexter is responsible for helping with the DNA evidence in old cases involving Hannah, but he senses there's more to this woman than meets the eye.
In the first sneak preview clip below, Dexter serves Hannah up with his own theory that puts a knife in Hannah's hand and proves she is guilty of murder as much as her former flame. Hannah denies Dexter's evidence, of course, but you can't help but think these two are on a collision course of sorts. I'm thinking Dexter will eventually have to choose between following Deb's rules or running off with Hannah to let his dark passenger come out to play with a friend.
In the other corner is Isaac (Ray Stevenson), a Russian mobster whose boyfriend Victor was killed by Dexter and dumped into the Atlantic Ocean. Isaac is on to Dexter's involvement and isn't shy about letting him know. Not only is Isaac interested in getting payback by offing Dexter, but he wants Deb's head on a platter as well. The last thing Deb needs is another killer tied to Dexter coming after her.
Dexter will also soon find out that LaGuerta has found a blood slide at Travis' murder scene and is back on the hunt for the Bay Harbor Butcher. Dexter is no stranger to having the walls close in around him. I can't recall so many pushing so hard at one time.
Watch or DVR Dexter: Season 7 episode 77 'Swim Deep' this Sunday at 9/8c on Showtime.