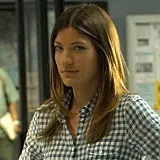 What did you all think of Dexter's return in the season five premiere 'My Bad?' I found it played more to wrapping up loose ends from the season four finale than offering anything overly revelational to kick off a new year. It did so wonderfully with Dexter's coping with the realization that he really did love Rita and the public breakdown of his domestic "mask" for all, including Quinn, to see.
The next episode 'Hello Bandit' will focus on Dexter's life as a new single father to Harrison and his new apartment roommates, Astor and Cody. I've got a pair of clips from the episode titled 'Create of the Night' and 'Welcome' for your viewing pleasure below. Poor Harrison; he can't seem to get away from tight spaces filled with blood.
'Hello Bandit' will premiere Sunday, October 3 at 9pm EST on Showtime.