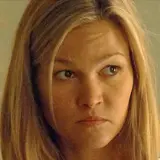 The fifth season of Showtime's Dexter on Blu-ray and DVD has a release date of August 16 and an SRP of $64.99 per a new pre-order listing at Amazon.com. DexterSeason 6 is expected to premiere in early September.
In Dexter Season 5, Julia Stiles entered the moonlighting serial killer's (Michael C. Hall) life while the after effects of Season 4 lingered on. There are 12 episodes total that will likely span 3 discs if past seasons are any indication.
I'll share more details about Dexter Season 5 on Blu-ray once Paramount Home Entertainment formally announces its release. In the meantime, it can be pre-ordered at Amazon.com for $41.99 or 35% off that list price.