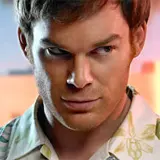 As the fifth season of Showtime's Dexter approaches its final two episodes, word has leaked out that season six has received a green light for production.
The news comes from E! who claims an inside source tell them a soon-to-be-released official announcement will confirm Dexter: Season Six is on the way and will not be billed as the final season. If this is the case, Showtime intends to continue Dexter into a seventh season but cannot do so until working out new contracts with the cast at the end of season six.
Celebrate another year of Dexter by checking out these episode 11 'Hop a Freighter' preview clips.