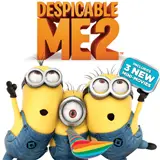 Universal's hit sequel Despicable Me 2 is headed to Blu-ray 3D, Blu-ray and DVD on December 10, with an early Digital HD release date of November 26.
Despicable Me 2 stars the voice talent of Steve Carell, Kristen Wiig, Benjamin Bratt, Russell Brand, Ken Jeong and Steve Coogan, and turned the box office minion yellow this past summer when it exploded to $878.2 million in worldwide ticket sales. North American business has rung up at $362.5 million, and that's based off a budget of only $76 million. A third Despicable Me film as well as a spinoff starring Gru's minions are both in the works.
Universal will deliver Blu-ray 3D and Blu-ray combo packs of Despicable Me 2 with the only difference between the two being the package artwork and the inclusion of a 3D version in the Blu-ray 3D combo. Both will include Blu-ray, DVD, digital copy and UltraViolet versions of the film, include three all-new Minion Mini-Movies, be presented in 1080p video and 5.1 DTS-HD Master Audio, and include these extras:
Three All-New Mini-Movies Starring the Minions – Introduced by Gru

Puppy
Panic in the Mailroom
Training Wheels

The Making of the Mini-Movies – A fun-filled take on the making of the mini-movies through the eyes of the artists who made them.
Deleted Scene
The Minions – A visit to Illumination Entertainment in Paris and Los Angeles to hear what it's really like to work with the Minions.
Evil Minions – Bigger, badder and more purple than ever, the newest and fiercest addition to the Minion species can chew through metal and swallow a car. Find out more about the process that led to their creation and design.
A Gru-Some Transformation – A sit-down with Steve Carell as he discusses the transformation of Gru from the ultimate super-villain to super-dad and international spy.
El Hombre Malo: The Villainy Of El Macho – Every great story needs a good villain, and Despicable Me 2 brings on the diabolico in the form of El Macho! Learn about the creation of this character and the actor who brought him to life-Benjamin Bratt.
Pre-order Despicable Me 2 on Blu-ray combo for $23.99 at Amazon.com, 31% off the $34.98 list price.
Pre-order Despicable Me 2 on Blu-ray 3D combo for $34.99 at Amazon.com, 30% off the $49.98 list price.