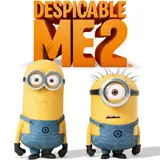 When this summer movie season wraps up and studios count their profits, there's a distinct possibility that Universal's sequel Despicable Me 2 starring the voices of Steve Carell and Kristen Wiig will surpass Pixar's prequel Monsters University to become the highest grossing animated film of 2013. Those cunning and hilarious minions are already off to an early start and even beat Mike, Sully and the gang to the start line in the home video pre-order race.
This past weekend, Despicable Me 2 got a head start in a mere seven overseas markets and still put up $41.5 million in ticket sales. From those earnings, $8 million are attributed to France and $23.3 million came from the United Kingdom. Another 38 markets will open the film this upcoming weekend and should help push overseas business quickly past the $100 million mark.
Here in North America, Universal is opening Despicable Me 2 this upcoming Wednesday, July 3, and should benefit immensely from playing over the July 4th holiday frame. Monsters University, the last family film to hit theaters, will have done so nearly three weeks prior. The other big July 4th film, Disney's The Lone Ranger, isn't exactly a suitable film for young families to attend. The path for Despicable Me 2 to dominate family ticket sales is free and clear.
Anticipation for Despicable Me 2 is already tearing up the Blu-ray charts at Amazon.com. The Blu-ray 3D combo pack went up for pre-order nearly a week ago and just today not only cracked into Amazon's top 10 Blu-ray bestsellers chart, but ran right up into the second position. Amazon has it priced at $34.99, 30% off the $49.98 list price, and that seems to be doing the trick.
Click here to pre-order Despicable Me 2 on Blu-ray 3D, Blu-ray and DVD combo at Amazon.com.
A few spots down the Blu-ray bestsellers list finds the original Despicable Me on Blu-ray and DVD, currently on sale for $12.99, residing in the seventh position. I expect it to climb higher as Despicable Me unspools into theaters and the appetite to revisit the original skyrockets as a result.
Click here to pre-order Despicable Me on Blu-ray and DVD combo at Amazon.com.
Despicable Me opened to $56.4 million back in 2010 on the weekend after July 4th. I expect Despicable Me 2 to earn somewhere in the neighborhood of $120-$140 million minimum from Wednesday through Sunday, which works out to nearly half of the original's total $251 million domestic gross. Due to the pent up demand and how well the box office performed in June, I wouldn't be surprised if Despicable Me 2 shot past $150 million.