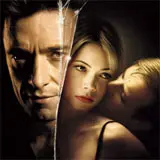 Online retailer DVDEmpire.com has added a listing for Twentieth Century Fox Home Entertainment's Deception on Blu-ray Disc with a September 23 street date and $39.98 SRP.
Deception is an erotic thriller staring Hugh Jackman, Ewan McGregor, Michelle Williams, Natasha Henstridge and Maggie Q. It was released theatrically in April 2008 as the first film featuring Michelle since her ex-fiancee Heath Ledger died in late 2007.
Per the listing, Fox will present Deception on Blu-ray in widescreen 2.4:1 1080p video and 5.1 DTS-HD Master Audio.
No supplemental features are known yet due to the early timing of this information.
We'll have more to report on Deception's Blu-ray bow once Fox makes an official announcement, barring a last-minute delay or cancellation.