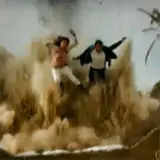 Who would have thought several quick scenes from all the various Transformers: Revenge of the Fallen trailers and TV spots were actually part of the same sequence? Now we know there was more than meets the eye.
The exclusive new Transformers: Revenge of the Fallen clip that debuted during the MTV Movie Awards has hit the web much bang packed into a minute-and-a-half. Shia LaBeouf aka Sam Witwicky learns the hard way that checking out an Insecticon is a bad idea, while Mikaela must be wondering while sobbing for her life why she ever got into that beat up old Camaro a couple years prior.
Things to spot in the trailer: Ravage on the prowl, multiple Constructicons including Mixmaster, a pretty pissed off Starscream with new Cybertronian markings, and a prettier Megan Fox who is stunning no matter how dirty and sweaty she is.
The downside to this clip versus say something showing off The Fallen in action is there isn't much we have not seen before. When the exclusive Transformers clip of Bonecrusher and Optimus Prime fighting debuted during the MTV Movie Awards two years ago, it was unlike any special effects sequence we had ever seen before. This? Very cool; but been there, done that.
Look at the bright side. Keeping the best Revenge of the Fallen stuff under wraps means more to be surprised by on June 24.
Check out the full clip for yourself below.