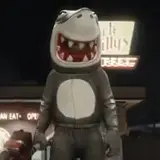 Tomorrow is Halloween and there's sure to be some zombies strolling your neighborhood in search of some juicy treats. It only makes sense then that Dead Rising 3, Capcom's upcoming Xbox One exclusive launch title, join in on the Halloween fun.
How might the city of Los Perdidos celebrate Halloween, you wonder? Try wearing a shark costume and using a circular saw as a weapon to cut zombies into pieces. That's only some of the costumed mayhem you'll find in the new 'Nick or Treat' Dead Rising 3 trailer below.
Capcom has also revealed that the Dead Rising 3 Season Pass will be available to purchase beginning November 22, the game and Xbox One launch date, for a price of $22.99. The Season Pass includes four individual content DLC packs priced for 25 percent less than if you bought them individually when they're released. Each pack will include new missions, playable characters, weapons and more.
Season Pass buyers will additionally receive the exclusive 'Nick Ramos Tribute Pack' that includes a custom muscle car and Nick Ramos costume.
Here's a breakdown of the four Dead Rising 3 DLC packs, the first of which will be released in late December.
Pack 1: Dead Rising 3: Operation Broken Eagle (late December)
Pack 2: Dead Rising 3: Fallen Angel
Pack 3: Dead Rising 3: Chaos Rising
Pack 4: Dead Rising 3: The Last Agent
You can still pre-order the Dead Rising 3 Day One edition with exclusive content at Amazon.com, while supplies last.